The following wines are exclusive, limited release selections, often available by pre-order only.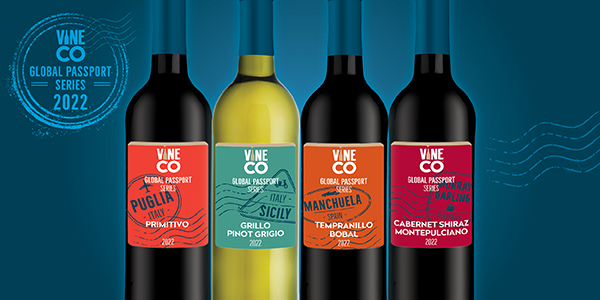 PASSPORT SERIES™ 2022
General Kit Information
TOUR DIFFERENT TERROIR, EXPLORE THE EXOTIC, AND UNCOVER THE UNIQUE.
6-8 WEEKS
14 L 3.70 US gal
MAKES 23 L 6 US gal
Every year, our highly anticipated VineCo™ Global Passport Series
takes us on a new adventure to the most prominent well-respected wine regions – from highly t outed up-and-coming regions to age old vineyards with long histories. A range of classic varietals to charismatic blends, this limit ed release wine series celebrates creativity and insists on excellence. Available for a short time by reservation only, it's a one of a kind wine experience. Where will VineCo™ Global Passport Series take you?

Tempranillo Bobal- Manchuela, Spain – RELEASE DATE: February 2022
THE WINE
Experience Spain with this juicy blend of Tempranillo and Bobal, two of the most widely planted varieties in Spain. Ripe fruits of dark cherry, strawberry and blackberry are complemented by notes of plum and fig preserve. Toasted oak brings hints of vanilla bean and baking spice. This medium bodied wine delivers freshness and balance with well- structured tannins and a long lingering finish.r.
THE REGION
Manchuela is a large wine growing region in central Spain inland from Valencia and located in the valleys between two rivers, the Jucar and Cabriel. These valleys and the influences of the Mediterranean Sea make the climate relatively mild. The moist winds coming off the coast help to regulate the temperatures in the vineyards to ensure optimal growing conditions. Red grape varietals dominate the region with Bobal representing approximately 70% of the vines grown in the region.
THE FOOD
• Paella with chorizo
• Grilled vegetable lasagna
• Manchego cheese
Sweetness Dry | Body Medium | Alcohol 13%